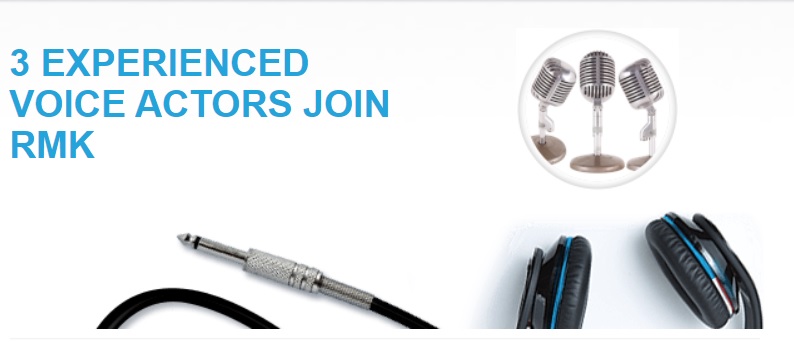 EXPERIENCE…
'Experience' in every sense of the word… The 3 new additions to RMK have an abundance of it!

•Experience as performers in Australia and around the globe.
•Experience on the big and small screens, on stage and behind the mic.
•And a wealth of life experience.

Experience them now:
KATE BEAHAN – MELBOURNE
Strictly speaking, Kate is not a 'new addition', rather a 'returning'  RMK Artist. Kate left Australia for LA a few years back and after a successful stint in Hollywood, the call of Australia was too strong.

Whilst working in Hollywood, Kate had the pleasure of being:
• Burnt at the stake
• Throttled on a plane
• Suffocated by a t-shirt
• Arrested for multiple murders
• Argued and won countless cases in court

Check Kate's IMDB page to view her extensive credit list.

To hear her latest voice acting reel click here.

*Kate is available via home studio during Melbourne lockdown
MEYNE WYATT – SYDNEY
Meyne is another talented and accomplished actor with plenty of experience in front of the camera, on stage and behind the mic.

Meyne's had the pleasure of working with another fine Australian actor, Nicole Kidman and a host of other top names including Joseph Fiennes, who once punched him in the face (accidently).

Again, an impressive IMDB page illustrates his credentials as an all-round performer… and his RMK page showcases his strengths as a voice actor… listen here.

Meyne's also writing a new play for Sydney Theatre Company.
ALEX WILLIAMS – SYDNEY
Rounding out our trio of new and experienced artists is Alex and he too has a super impressive IMDB page. Alex's experience and talent as an actor is clearly evident in his voice demo.

We asked Alex for some interesting stories, here's what he said:

•Nominated for a Logie and lost to Good Charlotte.
•GWS Giants ambassador/fanatic.
•Studied in France. Fell in love 8 times in 4 weeks.
•Once had a beer with Batman (Robert Pattinson).
•Had a mullet growing up.
•10 time AFL9s Premiership player.
•Used to drive an old ambulance around Sydney called the Beerbulance.

He also has an irrational fear of people brushing their teeth around him. "Yes it's real. No there isn't a name for it" (you've been warned).